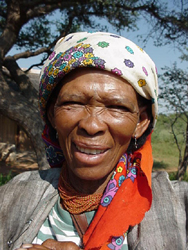 COXAE / ENNIE (Coex'ae Bob)
Ennie was born in the 1940's. Today, she is a mother of eight. She grew up within a caring family, strongly rooted in the traditions and beliefs of the Kalahari San. She's never attended school but other people often consults her for wisdom. Her knowledge about edible and medicinal plants is well known in the community.
She is a skilled craft producer and although she now concentrates on her art, she still enjoys making belts, necklaces and bracelets from glass- or ostrich eggshell beads. Her love for the decorations in her people's traditional outfits had found an outlet in her art where she often depicts women with colourful traditional clothes.
Ennie joined the Kuru Art Project in 1994. Her painting style developed rapidly. Her enjoyment of the creative process conveys itself through her work, which is often light hearted and fun.
The things she remembers most vividly from her childhood are the trips made with her grandparents into the veld to collect veldfood and to hunt. Like most of the other Kuru artists, she also has a need to show some of these memories in her art in order to keep them alive.
Different from all the other women at the Kuru Art Project, Ennie also likes to depict birds and animals. She passionately loves the Kalahari veld with all its creatures. Therefore, creatures like the wild dogs, with their red tongues and spotted bodies, the owls and insects like the praying mantises appear in her work. For her the creative process is more important than the final product. In this way a bird can easily be transformed into a plant and vice versa. It could be this childlike absorption in her work that results in a looser paint technique, different from the precision of the other Kuru artists.
Ennie also sees her art as an extension of her culture. Through her art people will always remember her culture and the world she loves. She would like to know that people would recognise her as a person through her art.
From this artist you can even hear the story that belongs to a painting in Narro, the language of the Kuru people.
Xgaa tsi nxabo (Plant and duiker) - reduction linocut - 1999
Two poachers escaping from police - reduction linocut - 1999
Rainbird - reduction linocut - 1999