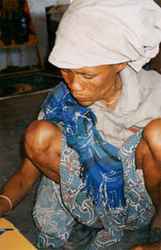 CGOISE (Cg'ose Ntcõx'o)
Cg'ose was born at Kalkfontein in the Ghanzi district during the 1950's. Like all the Kuru artists she has a deep love and passion for the Kalahari bush where she grew up. To see Cg'ose is to see the Kalahari. She merges and fits into it like all the plants and animals around her. The harshness of it can be seen in the far look in her eyes and the wrinkles on her face that easily bursts into an abundant smile, reaching her eyes and turning the wrinkles and crevices on her face into joy, just as the Kalahari veld turns into an unbelievable joyful spectacle after the rains. She and her husband had only one child whom they lost in 1999. For Cg'ose the loss of her only daughter is a very heavy burden and for almost a year she was not very productive. It is remarkable that in the few pieces she did during this period, there are no traces of the pain and hardship she went through. In 1997 British Airways selected a painting by Cg'ose to decorate the tailfin of one of their large planes. For Cg'ose this was the peak of her career so far. She is very proud to have seen her painting on the large plane, in the upholstery, on the tickets and even on the small packets of sugar she got with her coffee.
In 1999 Cg'ose was selected to join three other artists from Kuru and four American Indian artists in a printmaking workshop at the Tamarind Institute in New Mexico, U.S.A. Together they produced a series of prints around the theme of the trickster. For Cg'ose this was a great experience. Like most of the female artists at the Kuru Art Project she likes to depict the daily work of the women, such as the collecting of veldfood and the preparing of it. Dogs and donkeys sometimes appear in her work. She prefers to repeat the same patterns on her large canvases. These canvases filled up with plants and animal forms together with her well rounded human figures, symbolises for her the bounty of the Kalahari after good rains. Her large canvases are constructed of flat planes, alternated by linear elements. This style is also very suitable for the bright coloured linos and lithographs she makes.
Through her art Cg'ose likes to remember the beauty of life in the Kalahari and as most of the Kuru artists she gives no attention to the hardships, pain and difficult circumstances in which they live.
Bag, bird and tree - lithography - 1992
Tortoises - reduction linocut - no date
Dog barking at visitors - reduction linocut - 1999