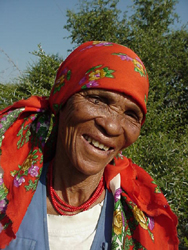 DADA (Coex'ae Qgam)
Dada was born in 1934 in Ghanzi in the Kalahari. She attended only three months of school, later working as a nanny and domestic help. Dada has extensive knowledge of her people's traditions and healing practices. Her first exposure to textile art was in Namibia, when an employer taught her needlework and embroidery. Fluent in five African languages, she joined the Kuru Art Project in 1990 as a translator, where she started to experiment with different art techniques. Like all the artists she had no formal art training but was given encouragement and technical advice at the Kuru Art Project.
Today she is a worldwide well-recognised full-time artist, who has been awarded several prizes at the Artists exhibitions in Botswana. She participated in several International Art Workshops in USA and in Zweden. In 1994 she was chosen as one of the five African artists to participate in the Women of the Nineties Exhibition. In January 2000, she had an exhibition together with two women artists from Botswana in Gaborone. "I am very happy for this opportunity to exhibit with Ann Golifer and Neo Matome. Being able to exhibit alone with two women from other culture groups sets me apart from the other Kuru artists. It is a great opportunity to show who I am. To see my work alongside theirs brings me joy." Dada's compositions are informal and she works in an uncomplicated and direct way. Her use of colour is bright and bolt.
"I am always thinking about my art. I am thinking and planning new paintings all day. It won't leave me, even when I lay down to sleep at night, the colours and images keep on coming back. It is then that new paintings are born. I plan them in my head. My prints and paintings are depicting facets of my culture and my world. I like to depict the things that bring me joy, like the plants from the Kalahari that can fill an empty stomach when you are hungry or can satisfy your thirst when there is no water to be found. I like to show the women collecting veldfood, the houses we live in and the children who are always present. I like to depict the simplicity of our lives and the beauty that can be found in it, even though we have so many hardships.
Sometimes, without me even realising it, parts of these hardships enter my work. Our lives are changing: old traditions do not count any more and money is getting more and more important. My painting "Woman and her husband " depicts the sad fate of many women whose husbands do not want to be responsible for their children. The man goes away into the world, free of bonds, while the woman is left behind in darkness (usually without any income) to care for her children. It happens in my world!"
Dcaro Dxam (Ostrich thorn plant) - reduction linocut - 1999
Kalahari veld destroyed by ants - reduction linocut - 2000
Birds and plant forms - lithography - no date