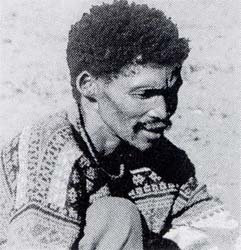 QMAO (Qgoma Ncokg'o)
Qmao grew up on several farms in the Ghanzi district. He had a great love and knowledge of the birds, insects and animals of the Kalahari. He depicted them in a very personal way. His work has a sensitivity, which is very touching, and his method of painting was quite unlike that of the other artists.
Qmao was fascinated with the way his ancestors lived and drew them in a number of his lithographs, many of these being half animal, half human. He was beset with personal problems and was only able to show the world a glimpse of his artistic potential before he died mid-1995, aged about fifty.
Man hunting ostrich - linocut black/white - 1993