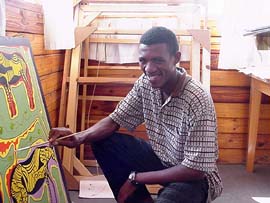 Q. MOSES / OLEBOGENG (Qãetcao Moses)
He sees his artistic talent as a gift from God. It is something that has always been with him and will always be with him. "I could always draw animals. I can just do it." Qãetcao loved to make wire cars when he was a boy. He made intricate exquisite lorries, like the cattle trucks that thunder along the roads in the Ghanzi district.
Qãetcao was born in 1973. Although his parents are Batswana, they lived in a San community. He grew up together with the San children who gave him the name Qãetcao, which means good heart. He used to roam the veld with them, setting snares for small animals, pretending to be big hunters. He never really hunted but loves the veld and the animals with great passion. His art provides an outlet for this passion. It is a way for him to bring out what is close to his heart. He likes to portray the animals he encountered many times, like the porcupines that used to destroy their crops, the vultures that are always appearing as if from nowhere as soon as an animal dies. His most favourite subject is the Nxobe or stork that appears after the rains. These birds are for him a symbol of abundance and joy.
Qãetcao attended only three years of school and wished he had been better educated. He is very proud to be an artist and would love to be able to run his own studio. Through his art he became famous, met many people and saw many places he did not even know they exist. In the same way his art had opened his eyes to the wider world, he would like to open the eyes of people to see the Kalahari and its beauty.
He is a very precise artist but also likes to work quickly. He loves to experiment in different techniques.
In 1997 he received a commission to make a mosaic floor panel for the Princess Marina Hospital in Gaborone. His experiments with mosaic tiles were carried over to some of his paintings and prints, breaking them up in small colourful squares. He usually works in large flat planes, but like in the case of the mosaic, he easily ventures into other techniques and ideas. Like most of the other Kuru artists his work is very colourful. He especially loves to use the warmer colours like yellow and orange opposite to grey and green. His work is very popular and is often featured in the Kuru Art Project's yearly calendars. Qãetcao attended several of the Thapong International artists' workshops in Botswana and went also to Australia, participating in a workshop.
Mountain streams and rock art images - reduction linocut - 1999
Storks, porcupine and worms - reduction linocut - no date
Ostrich egg-shell jewellery - reduction linocut - 1999