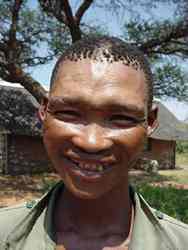 S.SOBE (Sobe Sobe)
Sobe wanted to be an artist ever since he heard about the art project at Kuru. In 1993 he left his job at a cattle post close to the central Kalahari game reserve to work at Kuru so that he could be closer to the art project. His talent was soon recognised when he helped to make posters for a children's workshop at the Kuru Cultural Centre. Sobe grew up on several farms in the Ghanzi district, since his family often moved from one place to another. As a child he lived mostly with his grandparents who taught him many things about the veld. Apparently this was not enough, because when he was older, the owner of the farm where they were living, took him to school in D'Kar. The situation at school did not suit a child who was used to the freedom in the wild. Having a very frail figure he was teased and beaten by the bigger boys in the hostel where he had to stay. He ran away, finding his way over eighty kilometres through the bush back to the farm.
Sobe did not produce large quantities of work but whenever his hand touched something it turned out to be a good work of art. He liked to portray the animals. The Gemsbok was one of his favourites. He also liked to portray the leopard for which he had great respect. The many stories about the big horned snake that kept watch over a waterhole had always intrigued him. The horned snake or the snake with ears can be found in almost all his artwork. He liked to use very bright contrasting colours. He excelled in his lino prints.
Together with the Kuru Cultural Centre he visited the rock art sites in the Brandberg and Twyfelfontein in Namibia. These parts of his history and culture had made a great impression on him. He said that he sometimes tried to portray the animals to look like the ones the rock artists did. It amazed him much that one of his prints received the Jury Honourable Mention at the Graphica Creativa 96 exhibition in Finland. Because of this he was invited to participate in the World Award Winners Gallery 1997 in Krakow, Poland.
In August 2000 this young promising artist died.
Animals from the Kalahari - reduction linocut - 1999
Elephant, hyena and 2 snakes - reduction linocut - 2000
Abundance in the Kalahari - reduction linocut - 2000