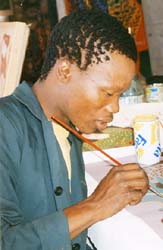 THAMAE S. (Thama Setshogo)
Thamae was born late 1960ís early 1970ís in the Ghanzi district. He grew up on a farm on the edge of the central Kalahari game reserve, where his parents worked as farm labourers. At a very young age he learned the ins and outs of farm work and the secrets in the wild. In 1991 he joined the Kuru Art Project. He started working with acrylic on board, but soon changed to oil on canvas. He works mostly in smooth flat planes with colours that complete each other. Another technique that suits his style well is the lino printmaking. An outstanding feature of his art is the almost always symmetric compositions. Very sensitive to details, he depicts small incidences and creatures in nature (like waterinsects) which are often being looked over by other artists. He has no preference for materials, but enjoys using them all. Other than all the other Kuru artists he prefers slightly muted colours and does not always use great colour contrasts. For subject matter, he prefers animals above all. He loves to see them coming alive in his art.
He became famous for his large black and white lino prints. His subject matters are simplified so that they become almost abstract. He always works direct from memory without any preliminary sketches.
Thamae is not afraid to experiment in different material. In 1997 he received a commission to make a large relief wall panel for the Princess Marina Hospital in Gaborone. Since he also loves woodcarving he created a beautiful panel with layers of carved wood combined with paint. During the same year he also painted a large mural at the Return of the Moon exhibition at the National Museum in Windhoek, Namibia.
With the assistance of the Artistsí Press in Johannesburg, South Africa he made several lithographs. He was one of four Kuru artists to take part in a lithography workshop on the theme of the trickster at the Tamarind Institute at Albuquerque, New Mexico.
He also attended several of the Thapong International Artists' workshops in Botswana and an international workshop in Australia. Thamae is one of the most well-known and famous artists in Botswana. He received several awards at the Artists' exhibitions in Botswana. Becoming an artist was nothing new to him. It has always been there with him. He always loved to make beautiful things with his hands and loved to learn new ways of making things. Without any formal schooling, he feels that his art has given him a chance in life. Through his art, he became recognised as an individual. For him his art is the link between the past, the present and the future.
Insects - linocut black/white - 1996
Two men collecting honey - reduction linocut - no date
Cari bird - reduction linocut - 2000