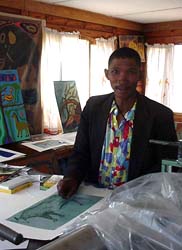 XGAIGA (Xgaiga Qhomatcã)
Xgaiga, a San man born in the fourties on the farm "Uitkoms" in the Ghanzi district. He grew up in a large family of eight children and was initiated into farm work at a very young age. He worked as a farm labourer, herding cattle and tending the gardens. He is well-known for his knowledge of the veld and San culture. He never had any formal schooling. Because of his outgoing personality, most people like him. He is also a good performer and instructor of the traditional games, dances and music of his culture.
He is married to Nxabe, also an artist at Kuru. Together they have nine children.
Xgaiga joined the art project in 1997 when he attended a workshop that was held to identify new artists for the Kuru Art Project. His spontaneous, almost expressive depiction of animals caught the eye of the co-ordinator. He started working with oil on canvas but was soon introduced to the lino printing technique, which he enjoyed a lot. One of his prints was chosen for the front cover of the 1999 calendar of the Kuru Art Project. He was also chosen to be one of four Kuru artists to attend a printmaking workshop, together with some American Indian artists, at the Tamarind Institute, Albuquerque, New Mexico (USA) in July 1999. During this workshop he learned to make hand coloured lithographs. At the Kuru Art Project he also made some intaglio prints. His outstanding line and aquatint etchings, together with his other works have been sent to various galleries and exhibitions world-wide.
Trickster hare and lion - lithograph - no date
Two warthogs - reduction linocut - no date
Two lions hunting - reduction linocut - 2000