INTRODUCTION
"They say it is our ancestors who made the many rock paintings all over southern Africa. I believe it, although I have seen only some of these many paintings. The ones that I have seen illustrate things that I know so well from our culture. Yes I believe
the San*
made it. I feel it in my body. I do not see myself as just another artist. Being an artist is my heritage. It is part of my existence, as being Ncoakhoe (Bushmen) is part of my existence. I am very serious about my tradition and my culture. I cannot understand why people who do not care for tradition can be an artist, because that is what it is all about. Even in the times when there were no rocks for our people to paint on, they had to satisfy their artistic skills. They made beautiful beadwork designs from ostrich eggshells and wooden beads, and later, when it became available, they also used the brightly coloured glass beads. They carved beautiful things from wood, which they decorated with burnt patterns.
Yes, the main reason for me to paint is to show the world the things that my people and I love. It is a way of making a living, but more than that - it is to show other people who we are and how we live. It is also a way of learning. Through art you learn about new techniques, about other cultures, about how other people think and live. It lifts you out from the darkness."
DADA (Coex'ae Qgam) January 2000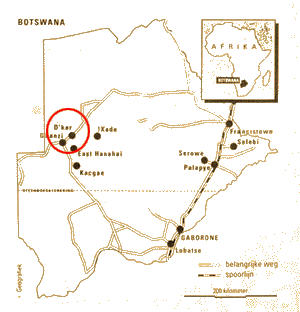 Deep in the Kalahari sandveld
a group of San artists relive their ancient past when the veld was endless and game and food abundant. They revive it in strong forms and vibrant colours and express it in a yearning for better days that are forever gone. But also they show to their own people and to the world that they are still the "First People", not about to disappear or become assimilated. They are searching for their own (artistic) place in this new world order in which their land is all but lost, veldfood is scarce and the thrill of the hunt is rare.
Within one decade
this collective of artists became renowned. A remarkable development which started in 1990 when a group of the San people , living in D'Kar in the western Kalahari, went on excursion to the Tsodilo Hills in Northern Botswana, a group of hills famous for its rockpaintings by the San people. They were excited to see the art of their ancestors, that they too wanted to start painting.
'Gee ons die lappe en verf en ons sal ook sukke prentjies maak van ons lewe'
(give us fabric and paint and we will also make such pictures from our lives)
The Kuru Art Project was born.
A workshop for fabric painting was organised. Two of the nicest cloths were sent to Gaborone (capital of Botswana) for an exhibition at the National Art Gallery. The gallery promptly bought these cloths for their permanent collection.
Within three years enormous progress was made. The artists became involved in painting, graphics, such as lino print, silkscreen, murals, etc.
Initially the artists painted with acrylics on fabric and board. Today they prefer working with oil paints on stretched canvases.
The number of artists involved in the Art Project fluctuated through the years between 12 and 17, 6 of them are female. Although there is occasionally a crossover in terms of subject matter it seems that the artists prefer to follow the traditional division of labour and life experience in their artwork. The women concentrate largely on depicting veld food, people, birds, beadwork and items of clothing and jewellery. The men focus on depicting animals, mythical creatures and people. The artist Q.Moses is the first one who depicts an actual problem in his painting
"H.I.V./Aids, Let us pray"
.
Many paintings and prints are based on traditional San stories as in the case of
"Eyes on his feet"
. The story connected to this print of Coxae is told by the painter in Naro, the language of the San people. It is accompanied by the written text in various languages.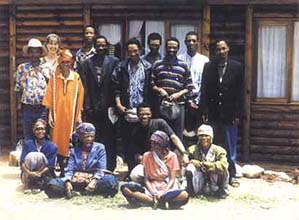 The contemporary paintings by the San artists
have become world-wide famous. Exhibitions were organised in Poland, Finland, The Netherlands, Norway, England, the USA, Canada, South Africa, Namibia, Germany, Australia, Sweden and of course in their homeland Botswana. They won many national and international awards both collectively and individually. The San paintings and prints are found in private and public collections throughout the world.
In 1998 British Airways
purchased the copyrights of one of the paintings by the artist C'goise and they used the design to decorate the tail end of a Boeing 747, tickets, stationary etc.
The Africaserver presents sixty one works of art.
For this exhibition one recent painting of each of the fourteen artists has been selected. During the preparation Sobe Sobe passed away (August 2000). In a separate section you find short biographies plus several graphic works of art by each of the seventeen Kuru artists including the deceased ones.
The Kuru Art Project is part of the Kuru Development Trust
: a community owned development organisation that aims at improving the quality of life amongst the marginalised San communities in Botswana and is active in a dozen remote San communities in the western and northern part of the country.
The self-employed artists make use of the facilities of the Kuru Art Centre which contains a large painting studio, a printing room, store room and a darkroom. In return Kuru accepts the art work on a commission basis. Kuru employs a full-time art co-ordinator and two assistants.
Till the year 2000
you could only reach D'Kar in a four wheeldrive car on a dirt road. Now there is a tar road that leads you through the almost unreachable Kalahari sandveld. With this very first exhibition via the digital highway the Africaserver hopes to bring the San artists from D'Kar all over the world and nearer to you.
For additional information, see section
Credits/More info
.
November 2000
*The San: as is the case with so many indigenous peoples, the San have different names, always given to them by dominating outsiders. The Dutch and English colonists called them Bosjesmannen or Bushmen. Anthropologists introduced the Nama word San. The San in Southern Africa prefer to call themselves Red People. However sub-groups sometimes name themselves after their language, for instance the San people around D'Kar also bear the name Naro.