Exhibition overview
Start Exhibition
La technique Bogolan
CV+address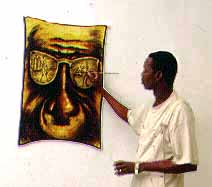 Hama GoroMali (1963)
I was born in Dinangourou and I am from the Dogon people. After my studies at the Institute National des Arts in Bamako, the capital of Mali, I worked at the Atelier d'Arte Plastique Jamana. Next I went - in January 1995- to the Rijksakademie van Beeldende Kunsten in Amsterdam for a period of two years.

I work with a traditional method, called the Bogolan technique. I make my own paint, I use the gifts from nature to the utmost. The colours have a very natural tinge.
I have been inspired by the tradition and the daily life of my Dogon environment. This you can see for instance in the applied technique and the decorative motives in the first works.
I developed various themes in my work. I deal with the social, economic and political situation in my country and the relation between the North and the South. During my stay in Europe I try to look at Africa from the West. In this way Africa and the West are a source of inspiration.
I notice that the West has been entrapped by modernisation like a cock swallows pimento. I was struck by the phenomena of loneliness in Europe which I depicted in La Solitude and Beau Temps. Reversely I perceive that Africa has been confronted with the western civilisation which had an enormous effect on our traditions. This confrontation caused many political and social problems in Africa and resulted in a collapsed economy like a car stuck in the mud. The conflict between tradition and modern life returns frequently in my work.